Wednesday, 7/20
Doors at 7:30, show at 8
Rickshaw Stop, 155 Fell St @ Van Ness
$8
All ages
http://vimeo.com/28031082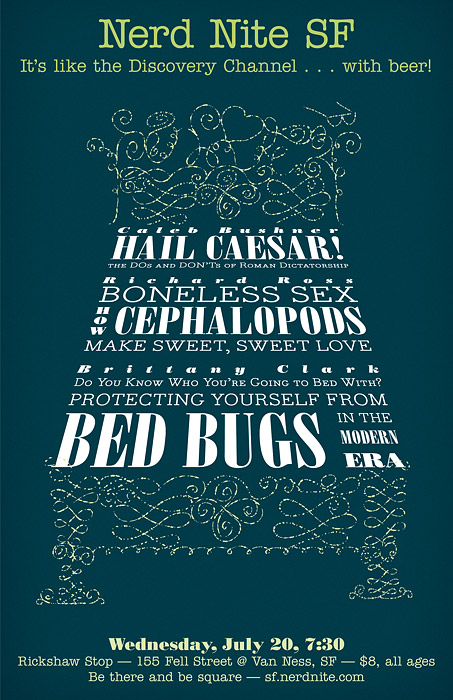 Here in San Francisco, July is NOT the month for chasing ice cream trucks, running around in sprinklers, and wearing cut-offs and tank tops. No, it is the month of advection fog. And we like it that way! But don't let the fog roll into your brain; come check out three talks that are guaranteed to get you hot, a little bothered, and a lot smarter! A history buff recounts all the good stuff your teacher left out of the ancient Rome lesson, an aquatic biologist talks "ceph sex," and a pest-control pundit explains how not to let the bed bugs bite. Be there and be square at your friendly, neighborhood nerdy-lecture-series-in-a-bar!
—————————-
"Hail Caesar!: The DOs and DON'Ts of Roman Dictatorship" by Caleb Bushner
Take a tour of the history, customs, and culture of the ancient Romans: who they were, what they accomplished, and how they shaped our modern world. And, of course, their murderous and dysfunctional political system that somehow endured for several centuries. There WILL be an assassination drinking game!
Caleb is an amateur Roman history buff and a professional nerd. He's spent the past two years studying Rome, geeking out on primary source material and peer-reviewed scholarship, and wants to share the exciting stuff, while sparing you the trouble of all those paper cuts from old books.
—————————-
"Boneless Sex: How Cephalopods Make Sweet, Sweet Love" by Richard Ross
Octopus, cuttlefish, nautilus, and squid are not just smart, not just masters of camouflage, but also masters of reproduction! This talk, which amounts to ceph porn, is packed with dirty pictures and dirty video of your favorite 8-armed animals in various stages of dirty relations, from the deed itself to "birth."
Richard works as an aquatic biologist at the Steinhart Aquarium in the California Academy of Sciences, maintaining many exhibits – including the 212,000-gallon Philippine Coral Reef – and caring for many cephalopods. An avid underwater videographer who has scuba dived all over the world, he enjoys spending time with his patient wife, his incredible daughter, and their menagerie of animals, both wet and dry.
—————————-
"Do You Know Who You're Going to Bed With? Protecting Yourself From Bed Bugs in the Modern Era" by Brittany Clark
It's the dead of night. You're curled up snug in your bed, sound asleep. But wait! Dramatic music swells and an ominous figure appears at your bedside. The audience screams, but you slumber on, blissfully unaware as this creature leans in to consume your blood. Even in the recesses of sleep, you feel something. You stir and waken. The beast quickly retreats, but you don't have to see it to know the horror that has come to you. You have just been bitten…by a bed bug! Despite the fact that we have lived with bed bugs since the first caveman threw down some animal hides and curled up for a nap, most of us have only ever heard of them in nursery rhymes and media horror stories. What are the real dangers of bed bugs and how can we protect ourselves?
Brittany is a licensed field representative and bed bug specialist for Pestec Integrated Pest Management company in San Francisco. She has a B.S. in psychobiology from the University of New England. She's a Leo who likes long walks on the beach, dogs, and protecting her bed from parasites.
—————————-
Plus: DJ Alpha Bravo wielding slabs of vinyl and tweeting all about it. Alpha Bravo is VP of left-field pop label, Radio Khartoum, and was one of the forces behind legendary SF pop-club nights, Anisette and Schokolade.
And a new fake magazine unveiled!